KARL products for industrial use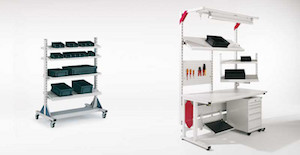 Our ESD-safe workstations protect sensitive components throughout your value chain. Another advantage of Karl solutions is the ability to adapt our systems ergonomically, protecting the health of your employees and increasing productivity.
Whether it's the assembly line, test field, or the interaction of several workstations by means of a transfer system, Karl solutions can be individually adapted to suit your needs and ensure that the value chain in your company runs like a well-oiled machine.
SINTRO for industry
The variable assembly workstation for optimum productivity.
SINTRO has all the options you might need to adapt to different tasks. Height adjustment, versatile connection options and the modular expansion program all make for an ideal workplace with optimum productivity.
Or fill in the form below, to request more information.