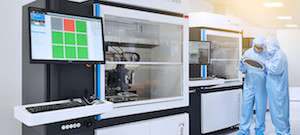 Unrivaled Flexibility for Prototyping & Production
Advanced Sub-Micron Bonder
The FINEPLACER® femto 2 is a fully-automated die bonder with a placement accuracy of 0.3 µm @ 3 sigma that offers unrivaled flexibility for prototyping & production environments.
A complete machine enclosure allows very demanding applications in a controlled environment. Fully protected from external influences, the system stands for highly stable assembly processes with the focus on maximum yield.
The new generation of the femto platform adds numerous innovations to the proven technical basis. This includes the cutting-edge FPXvisionTM. Combined with a refined pattern recognition, this all-new Vision Alignment System opens up a new dimension of application flexibility and accuracy. IPM Command, the fully revamped FINEPLACER® operating software, supports a consistent, ergonomic and clearly structured process development.
Depending on the requirements, the modular FINEPLACER® femto 2 can be individually configured and retrofitted at any time to support new applications and technologies. This makes the system a perfect tool and reliable companion as applications migrate from product development to production. It covers the entire workflow of inspection, characterization, packaging, final test and qualification in semiconductor, communications, medical and sensor technologies.
Key Facts
Placement accuracy of 0.3 µm @ 3 Sigma on small to large substrates
Automatic placement accuracy calibration
Wide range of controlled bonding forces
UHD vision alignment system with FPXvisionTM
Multi-chip capability
Safe and controlled process environment with cleanroom quality
Wide range of component presentation (wafer, waffle pack, gel-pak®)
Modular machine platform allows in-field retrofitting during entire service life
Large bonding area
Numerous bonding technologies (adhesive, soldering, thermocompression, ultrasonic)
Ultra low bonding force
Individual configurations with process modules
Various bonding technologies in one recipe
Integrated scrubbing function
Process module compatibility across Finetech platforms
Wide range of supported component sizes
Synchronized control of all process related parameters
Process and material traceability via TCP (for MES)
Full process access & easy visual programming with touch screen interface
Data/media logging and reporting function
3-color LED illumination
In-situ process observation in HD
Fully automatic and manual operation
Automatic tool management
Or fill in the form below, to request more information.