GW Instek GPT-12000 Series AC/DC/IR/GB Electrical Safety Analyzer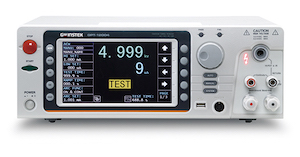 GW Instek introduces the flagship model (200VA output capacity) safety analyzer-the GPT-12000 series, which is the first safety analyzer in the world to comply with IEC 61010-2-034 (Safety requirement for electrical requirement for measurement, control and laboratory use – particular requirements for measurement equipment for insulation resistance and test equipment for electric strength), which stipulates that the requirements of the software and hardware interfaces must be followed while designing high voltage and insulation resistance test and measurement instruments so as to ensure that users are provided with necessary protection and warning while using the instruments.
Key Features:
200VA AC Test Capacity
Comply with IEC 61010-2-034
7" TFT LCD & Manual/Auto Mode
True RMS Current Measurement
Zero Crossing Turn-on Operation
Controllable Ramp-up & Ramp-down Time
Capacitive Load Testing Capability up to 47μF
Statistics Function
Sweep Function for DUT Characteristic Analysis
USB Storage Available & Rear Panel Output Available
Interface:RS-232C,USB Host/Device,Signal I/O and GPIB(Opt.)
Models:

This email address is being protected from spambots. You need JavaScript enabled to view it.
Product information
Or fill in the form below, to request more information.