PCB Separator MAESTRO 6/X03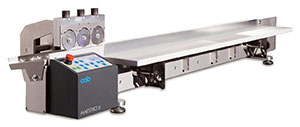 Separation of pre-scored PCBs up to a length of 1,500 mm with a minimum of stress on the components.
The MAESTRO 6 is the consequent further development of the proven cab PCB separators. Even very lengthy PCBs can be separated fast, economical and without stress.
The carriage power unit is positioned right behind the linear blade. This crucially simplifies the separation and removal of the PCBs.
Important features
FR4, CEM3 and aluminum PCB processing
Circular blade adjustment one by one
Separation length continuously adjustable
In ergonomic terms, the support table can be vertically adjusted.
In terms of a preventive blade maintenance, the cutting performance is displayed.
A conveyor belt can be provided to deposit the separated PCBs automatically.
This email address is being protected from spambots. You need JavaScript enabled to view it.