EPApro® – ESD Personnel Tester 1000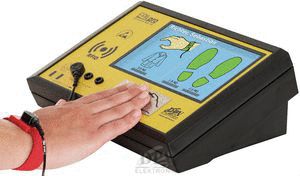 The compact tester for the resistance measurement of employees and personal equipment
EPApro® is a modern and compact tester for the testing of personnel grounding and fulfills the latest requirements of DIN EN ISO 61340-5-1 and ANSI ESD S20.20 and GDPR (General Data Protection Regulation). The integrated Multi-RFID reader enables the personal identification with present RFID cards or chips. EPApro® allows to record the measurements conforming to standards and in compliance with GDPR.
It is possible to connect several EPApro® Personnel Testers 1000 with the optionally available EPApro® Control Server via the company network and to manage the EPApro® devices from a central point. The data are stored centrally in the server database.
7" HD color touch screen display
Graphic user interface with intuitive operation
Multicore processor-controlled
Personal identification with integrated Multi-RFID reader (all common standards, existing ID cards can be used further on)
configurable measuring functions
Hands-Free mode
Quick measurement in less than 2 seconds
Password-protected access for administrators and managers
Privacy mode adjustable (recording and display without names, GDPR-compliant)
Reduced personal measuring voltage adjustable for individual persons
Time synchronization via network
"Stand Alone" operation or connectable via the EPApro® Control Server
Standard testing according to IEC / DIN EN 61340-5-1 and ANSI ESD S20.20
Recording and display of the measurements in the device (5000 measurements)
Measurement and logging of temperature and humidity per measurement
adjustable languages German and English
2 configurable switching outputs e.g. for access control systems
Made in Germany
This email address is being protected from spambots. You need JavaScript enabled to view it.
Or fill in the form below, to request more information.