Waldmann TEVISIO - No. 1 for mobility & visual quality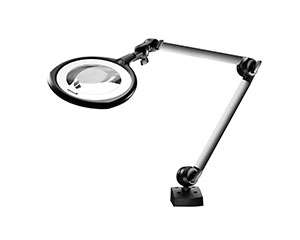 TEVISIO supports demanding viewing tasks with ergonomic perfection. Whether in the electronic, metal or watch sector, whether in assembly, workshop or inspection: TEVISIO is essential wherever demands on viewing are highest.
With its highly developed LED technology, innovative arm technology and a field of vision ideally matched to the distance to the eye, the TEVISIO magnifier luminaire offers optimum efficiency and ergonomics at the workplace.
Maintenance-free LED technology
For strong, large-area and uniform lighting
Good contrast viewing and very good color recognition
Continuous dimming
Variants with segment switching (visualizer function) for detecting very fine structures and errors
Robust aluminum housing
Closed design for protecting the user and the integrated technology
Absolutely scratch-proof magnifying glass, optionally antireflective or with additional lens
Large field of vision for distortion-free viewing
Approximately double magnification
Uniquely mobile and balanced arm with vast radius of action
Also available in ESD design
This email address is being protected from spambots. You need JavaScript enabled to view it.
Or fill in the form below, to request more information.