No Compromise – Precision. Performance. Power.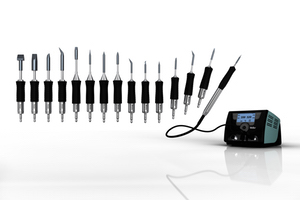 One Weller WX Station. Every Active Tip.
Production within the electronics, medical technology and aerospace industries is moving faster as components become smaller, more complex and more powerful. The soldering industry is no different. In order to meet these increasing demands, we're expanding our existing RT series.
Weller Tools is committed to offering the widest range of high-performance active soldering tips. For all of your soldering applications, linked to one of our state-of-the-art WX soldering stations.
Active tip technology
Our soldering tips join features as in-built sensor and perfect heat transfer, for the fastest heat-up and recovery time. Reduce your downtime for a faster workflow and better results.
Patented tip and grip design
Fast and hassle-free tip changing without needing any tool.
Precise control, ergonomic grip
The boomerang handle design allows for precise handling while providing an ergonomic and secure grip.
One intelligent WX platform
Run any RT tip from one WX station, meeting all operational hand soldering needs such as motion sensing or traceability with digital data storage in the soldering tool and station.
MIL-SPEC / IPC standard
New active RT soldering tips are fully compliant with IPC industry standards. The MS versions are also MIL-SPEC compliant.
Low cost-in-use
The RT lines of tips provide maximum protection to the printed circuit board and the component you're soldering, to achieve the best results and to keep operating costs as low as possible.
Digital tool
Motion activated, for simplified data storage.
This email address is being protected from spambots. You need JavaScript enabled to view it.
Product information
Or fill in the form below, to request more information.