Waldmann WLA Task & Work Bench Lighting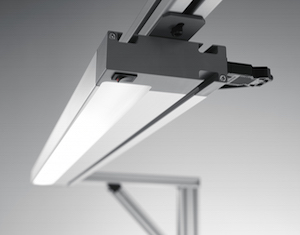 WLA LED mounted workstation system light is an ideal solution for manufacturing, assembly or quality control procedures, and metalworking environments - any area where quality lighting is essential. Three lengths allow for matching the light to the workbench to obtain the broadest light source possible.
The strong anodized aluminum housing and sealed construction protect the inner workings from environmental dust, etc. from entering the fixture. 5000K color temperature with CRI>80 offer bright, glare-free light for visual clarity. All models are designed for thru-wire capability.
Work bench light fixture
Broad light output for assembly workstations
5000K color temperature with CRI>80
Three lengths to match any work space size
50,000 hours maintenance-free LED technology
All models designed for thru-wiring capability
Strong anodized aluminum housing
Sealed to protect inner workings from environmental dust and other particles
This email address is being protected from spambots. You need JavaScript enabled to view it.
Product information
Or fill in the form below, to request more information.