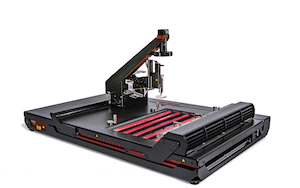 Manual rework of BGA, QFP and sockets.
Software-controlled Rework station with camera for repairing medium-sized to small circuit boards.
The Rework station with 2,000 W heating power in IR technology allows uniform heating over an area of 185 x 245 mm² and prevents mechanical stress due to temperature differences during the process. The high-resolution camera delivers fast, accurate and reproducible placement results. Even the smallest components from a size of 1x1 mm2can be repaired and placed. User-friendly handling is provided by the touch-enabled EASYSOLDER 07 software. Reflow profiles with individual temperature parameters can be created, edited and saved and enable high process reliability and repeatable soldering.
The Expert 05.6 IXH is a precise, cost-effective solution for the complete rework process on one unit.
Technical details
Power consumption: 2,500 VA
Power solder pen: 300 W, 35 l/min
Power under-heating system: 500-2000 W 4 x IR-lamps
Size under-heating system: 185 x 245 mm²
Max. PCB size: 200 x 260 mm2
Mains: 1Phase, 230VAC, Fused 16A
Pressurized air: 5-8 bar, 100 l/min clean, dry air
Airflow: 2-35 l/min
High resolution CMOS-camera: 1600 x 1200 Pixel, USB2
Dimensions: 660 x 360 x 390 mm3
Weight: 22 kg
This email address is being protected from spambots. You need JavaScript enabled to view it.
Product information
Or fill in the form below, to request more information.