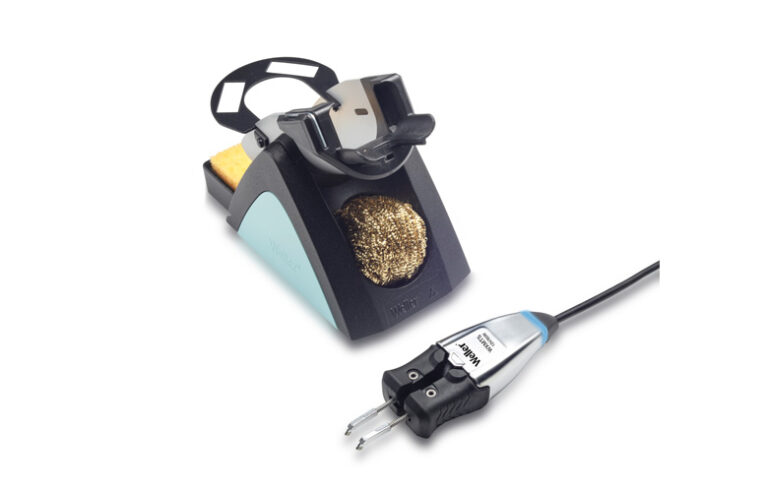 Your soldering tweezers just got smarter
Weller's new soldering and desoldering tweezers WXMTS and WXUTS combine the improved process control of the WXsmart soldering system with the class-leading performance you expect from Weller.
Work with natural precision
Short tip-to-grip distance, optimized tip design, and ergonomic grips deliver a natural, intuitive feel. On the tip-side, the parallel sliding block guide gives you a confident grip on the smallest components.
Swap tips quickly without adjustment hassles
A simple Allen key gives you ±80° rotation angle adjustment and vertical length adjustment of ±1.2 mm. Once set, the Active Tip Cartridge System and pairwise design allows for easy exchange of soldering tips without needing an extra tool or further adjustment between tips.
Work smarter across stations
Save standby temperature and automatic switch-off timing settings to the soldering iron once, then carry them over to any WXsmart station. Working with multiple handpieces? Set the RGB light to any of 12 different colors for at-a-glance tool identification. 
Key Features:
WXMTS Micro Soldering and Desoldering Tweezers

2 X 40 W, 12 V
Compatible with WXsmart Control unit
Supports Smart Pico RTWPS (soldering or reworking SMDs such as 0402, 0201, 01005) & Micro RTWMS Tweezer Tips for usage under the microscope.
Temperature range: 100 – 450 °C
Heat-up time: 5 sec
WSR 210 Safety Rest

WXUTS Ultra Soldering and Desoldering Tweezers

2 X 75 W, 24 V
Compatible with WXsmart Control unit
Supports Smart Ultra RTUPS Tweezer Tips for Heavy Duty Applications
Temperature range: 100 – 450 °C
Heat-up time: 10 sec
WSR 210 Safety Rest

WTMT Micro Soldering and Desoldering Tweezers

2 X 40 W, 12 V
Compatible with WT2M Control unit
Supports Smart Pico RTWPS (soldering or reworking SMDs such as 0402, 0201, 01005) & Micro RTWMS Tweezer Tips for usage under the microscope.
Temperature range: 100 – 450 °C
Heat-up time: 5 sec
WSR 211 Safety Rest