Functionality, Design and Ergonomics Customized.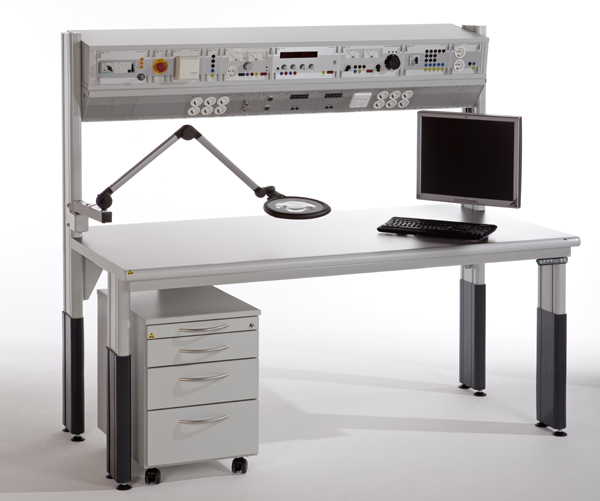 QUADRO twin has proven itself in practical use during many years. KARL presents the new developed electrically height adjustable workbench. All requirements for a modern workbench system are met with a height adjustable range of 720 to 1100 mm, without compromises in stability and functionality.
Dynamic and versatile like the people who work at the QUADRO twin SL, a perfect match of ergonomics, functionality and design. All heights of adaptive parts like shelves, 19" rack system, monitor stand are adaptable to the solid QUADRO profiles. Power and data cabling can be installed and covered in the integrated cable channels.
Well thought-out construction details offer maximum flexibility and individual design possibilities. With the extended accessory program the table frame will be quickly transferred into a comfortable allround-talent, with its simple design and concise column profile which appears timeless modernism and fits in all environments and room dimensions.
Detailed perfection.
QUADRO twin SL meets all your requirements and is easy to change and expand.
electrically height adjustable from 720 to 1100 mm
maximum working comfort and proven ergonomics
All adaptive parts can be mounted stepless and height adjustable
QUADRO twin SL offers full energy:

power, data and communication interface are available right where needed
Test & Measurement can be integrated in 19" racks height adjustable and tiltable
All cables and cords can be installed and covered

optional in ESD-version according to IEC 61340-5-1
This email address is being protected from spambots. You need JavaScript enabled to view it.