Training/certification ESD, soldering, IPC
PIEK, the leading and globally active partner for the electronic connections industry, provides all IPC certifications and recertifications. You can turn to PIEK for all IPC courses in the field of PCB Design, PCB Manufacture, PCB Assembly, PCB Repair and Rework, Cable and Cabling Techniques and various specialist IPC enrichment courses, in the form of PIEK courses. Visit our website for more information.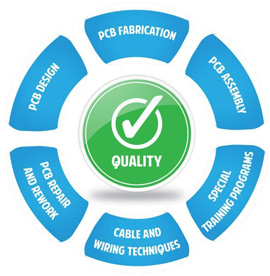 Calibration, verification, repair. Also on-site
Tooltronics multi-domain metrological services, in calibration, verification and test measurement are provided on-site and in laboratories. Guaranteeing the traceability of the International System of Units (SI) and ensuring the results obtained meet ISO 9001, ISO/CEI 17025 and ISO10012 standards.
Tooltronics offers verification, calibration and test measurement services that are accredited and/or certified in accordance with ISO/IEC 17025, "General requirements for the competence of testing and calibration laboratories," and ISO 9001 "Quality management systems-Requirements" which includes normative quality system and metrological references such as:
ISO 10012: "Requirements for measurement processes and measuring equipment"
ISO/IEC Guide 98-3 (GUM) "Guide to the Expression of Uncertainty of Measurements"
ISO/IEC Guide 99 (VIM) "International Vocabulary of Metrology - Basic and General Concepts and Associated Terms"
Tooltronics offers its verification, calibration, and measurement services in its ISO/IEC 17025 accredited laboratories and at your facility.
Our accreditations guarantee our calibration results are traceable to the International Systems of units (SI) through the intermediary of Euramet laboratories for Europe (LNE, NPL, PTB…), the NIST or NRC for North America, and any National Metrological Institute that is a signatory to the international CIPM MRA (Mutual Recognition Arranagement) agreements in the measurement domain. Tooltronics maintains comprehensive technical offerings in electrical, mechanical and physical measurements. Additionally, Tooltronics offers specialised services related to measurement such as:
Thermal and testing (Characterization of test chambers, ovens)
Force and hardness test machines
Dimensional measurement & inspection of artefacts, parts and products (CMM, optical, laser tracker)
Legal metrology (scales)
Strain gauge installation, test measurement
Our know-how is based on more than 30 years of experience. Combining an ambitious policy of strategic investment and calibration training with a dedicated industrial organization. This enables us to deliver tailored solutions adapted to your measurement processes.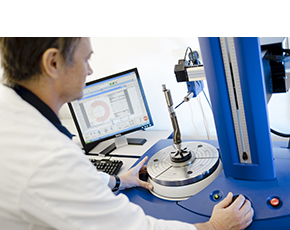 Consulting and auditing
Our strength lies in the individual consulting and finding of the ideal solution for your requirements solutions that fit. Our engineers and ESD coordinators are pleased to consult and support you also on-site with the planning of ESD protective zones, the establishment of the ESD control program and the performance of training courses and workshops. We perform ESD audits and material tests according to valid norms.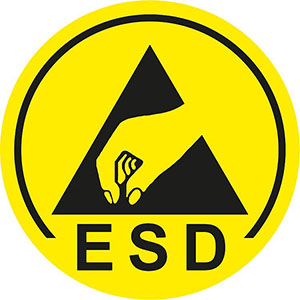 ESD, Cleanroom & ATEX Flooring
ESD and ATEX flooring systems of Tooltronics are applied by businesses that received a technical training. Neutral ESD measurements / tests of the surfaces are performed by well-established ESD institutes. The certificate 'ESD-safe floor' may be issued at cost price. Tooltronics supplies products that meet the NEN-ISO 9001/14001 production standards.
ESD and ATEX flooring and wall systems of EPI prevent electrostatic charging and thereby prevent uncontrolled electrostatic discharges that could otherwise cause damage and/or potential damage to components. Even minor electrostatic discharges that escape human perception, may cause this damage. The pertaining standard, NEN-EN-IEC 61340-4-5, allows a maximum voltage of 100 V (Walking Test). ESD and ATEX flooring systems of EPI prevent this charge build-up and meet this current standard.