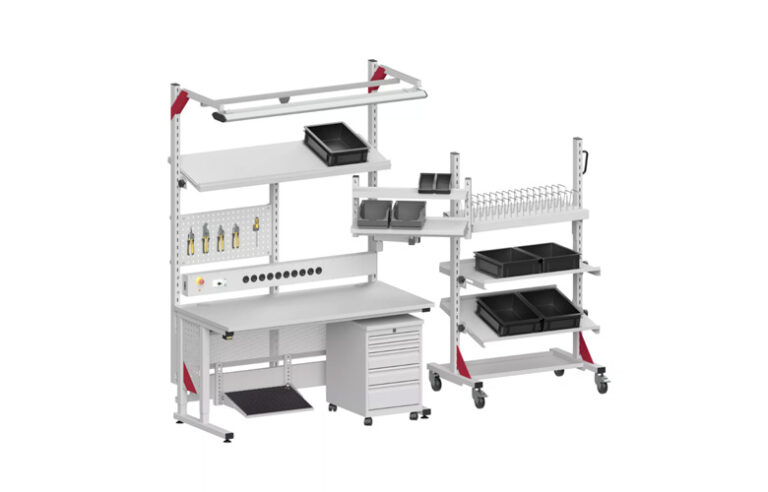 Innovative workstation systems KARL original.
We think constructively.
The courage to come up with innovative ideas and the know-how to implement them is firmly rooted at KARL. For more than 50 years, KARL has been manufacturing technical workplace systems and factory equipment in the "Made in Germany" category. Founded in 1935 as a craft business, KARL is now the leading company in Europe Specialist for ESD-compatible workplace and logistics systems.
Highest quality standards, first-class processing, convincing possible combinations and economical solutions for workplace design have ensured that KARL branded products have enjoyed high recognition among our customers for decades and are the key to our success. Each KARL product has its own character and is characterized by ideal ergonomics, sophisticated functionality and timeless design.
During product development, we always keep an eye on the users in production, assembly, laboratory, shipping and logistics or the development department.
They should feel comfortable at their workplace and design it in such a way that it meets their ergonomic needs and offers ideal conditions for the workflow.
We attach great importance to customer proximity. For us, service and advice are important aspects of cooperation in order to find customer-oriented, constructive and technically highly functional solutions for our products for specific requirements and to continuously promote technological advances.
Progress is continued tradition.
With our 170 qualified employees, we already think about important details during product development and material-specific construction and consistently implement ergonomic aspects.
Thanks to the greatest craftsmanship and modern production technology, highly functional workplace systems with almost unlimited design options are created, suitable for any use in a technical environment.
In our company, which is managed by the third generation of the KARL family, in addition to continuous innovation and technological development, closeness to tradition, customers and employees is of great importance.
Craftsman-technical know-how creates well thought-out, practical and perfect solutions, the cordial contact with our customers is the basis of trusting business relationships.
With this philosophy, KARL has become a European widely successful manufacturer of technical workplaces, factory equipment and transfer systems.